LEM. LIFE OUT OF THIS WORLD – Stanisław Lem's first biography in Poland!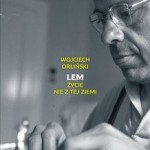 On 2 August Czarne and Agora published the first full Polish biography of Stanisław Lem. Written by Wojciech Orliński Lem. Life out of this World is an extremely well-written biography of one of the most famous Polish writers.
Drawing on hitherto unpublished sources, Orliński reveals the writer's secrets: both large and small, serious and amusing. How did Lem survive the Holocaust? Did he ever believe in communism? What did he buy for the royalties for The Magellanic Cloud? What is Solaris about and why Andrzej Wajda eventually didn't turn it into a film? How did Lem's pen friendship with Philip K. Dick turn into hate so sour that Dick would report his colleague to the FBI? In what respects were initial versions of Fiasco, His Master's Voice and The Futurological Congress different from those submitted with the publisher? Where and when did Lem try drugs and with what effects? And, finally, how would one go about buying things such as a car, a copy of The New York Times, a cable car ticket, Fiat ignition or a marzipan bar in Communist Poland?